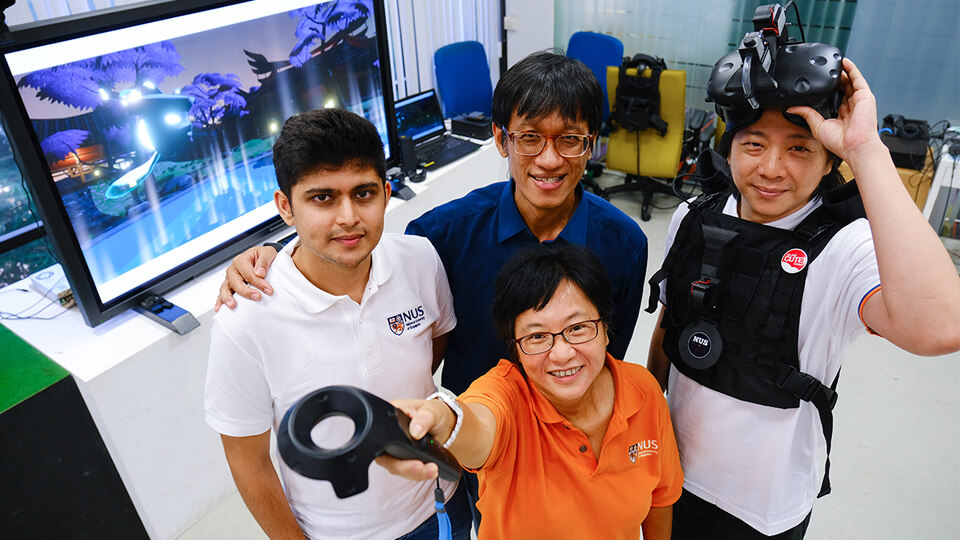 'The Lost Foxfire' debuted at the Tokyo Game Show 2019, the world's largest annual video game event that spotlights the latest trends and cutting-edge technologies for video games, in September 2019. 'The Lost Foxfire', the only project hailing from Singapore, was one of the 86 projects that were chosen from 320 independent projects around the world for the Sense of Wonder Night showcase.
'The Lost Foxfire' is a multi-sensory Virtual Reality (VR) game that uses the sense of heat and smell to find and stop a Foxfire from accidentally burning down your house. The player uses five heat modules to sense heat on the front, back, left, right of the neck, and one for the face. It also uses one smell module to warn the player that the Foxfire is in the room.
Most conventional VR games use headsets and haptic bodysuits to mimic and amplify sensory feedback, for instance, to deliver the sensation of a cool breeze to match the visual scene of the moment. In contrast, the game set developed by Keio-NUS CUTE Center team brings VR multisensory bodysuits to a new level where real-time, life-like sensory feedback is used by players to make decisions that will directly impact the outcome of the gameplay.
Potential applications for collaboration
Although 'The Lost Foxfire' was first developed as an experimental game, its immersive simulation and experiential technology can be potentially extended to other applications. It could be used to simulate unique scenarios for training purposes or to demonstrate fire safety. We are open to collaboration opportunities and are currently in discussion with a few interested parties.
Know more about 'The Lost Foxfire' @ http://cutecenter.nus.edu.sg/projects/lost-foxfire.html